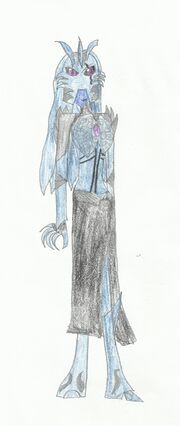 Satila Eclipse is evil Toa of Night, creator-"mother" of Eris and her nemesis. She serves Makuta Teridax. Her weapon is spear.
Apparence
Edit
Like her "daughter", Eclipse is slim, has blue skin and long dark blue hair(without black tips). She has lilac eyes, lilac heart-light, blue-silver armor, blue, cracked Kanohi Mask and wears black skirt.
Eclipse knows shamanism, herbalism and alchemy. She has power of Night element. Her mask, Mask of Feelings, enabling she to control other people's feelings, eg, cause hate or love (thus she gained the power of Mata Nui to create Eris).
Ad blocker interference detected!
Wikia is a free-to-use site that makes money from advertising. We have a modified experience for viewers using ad blockers

Wikia is not accessible if you've made further modifications. Remove the custom ad blocker rule(s) and the page will load as expected.